About Furniture Gallery - Unfinished and Custom Finished Furniture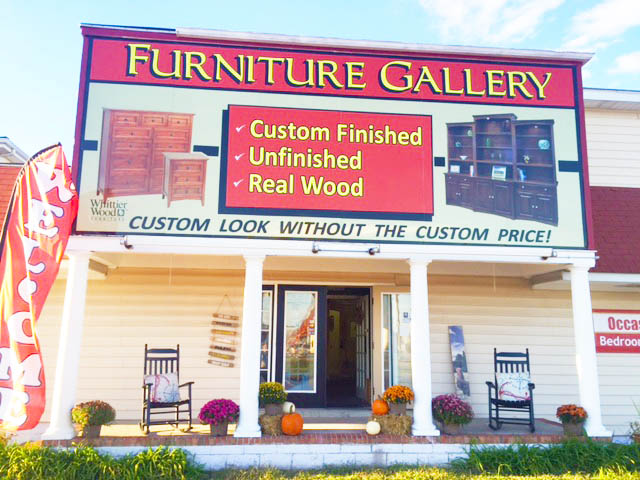 The Furniture Gallery Inc. is a family owned and operated business that has been dealing in the unfinished furniture and custom finished furniture industry for over 12 years.  We are a small business located in Lewes , Delaware on the eastern shore.  The furniture that is shown on our site is an assemblage of over 30 unfinished furniture manufacturers that we do business with.  We do not manufacturer any of the furniture that we sell, but we are able to ask some of our smaller manufacturers to do custom work.  
Our Lewes, Delaware store location is the only showroom that we have at this time and that is why we have decided to offer an expansive website listing.  Our store location is open 7 days a week from 10-6 every day except on Sundays we are open 10-5.  You can visit our store and purchase readily available unfinished as well as custom finished furniture from any of our 13 showrooms.  We also have a nice selection of home accents and upholstery as well as our stains, paints, and other finishing products.  
Since we are a small family business we strive to uphold our reputation for excellent customer service and one-on-one customer interaction.  Customers can feel free to come into our store to browse around, make a small purchase, or sit down with a designer to discuss furnishing an entire room or house.  You can also plan out your own custom hand painted piece. With our ability to offer custom stain and paint colors we allow the customer's imagination take over the outcome of the look they are trying to achieve.  We also feel that our website is equivalent to having another store location which is why we are constantly updating it with new and exciting pieces and custom design options. But keep in mind that any of the items that you find on our site may not be readily available to purchase from our showroom floor.  We do have a large amount of items in stock, but since we sell from our showroom our stock is constantly changing.  It is always a good idea to call or email us before making a long trip down to our store to purchase an item. 
We will be glad to hold a piece of furniture that we have in stock until you can pick it up, but because we rely on 30 different manufacturers to provide us with our furniture and the ever-changing availability of our natural resources we will never be able to guarantee something to be in stock just because it is shown on our site. 
Thank You for visiting our site and showing interest in our furniture collections. We hope to do business with you in the near future and welcome all of your questions about our products.  Choosing unfinished furniture can be a unique and rewarding experience. 
Thank You for your interest and we hope you enjoy browsing our selections.
The Furniture Gallery Family.