Mission Writing Desk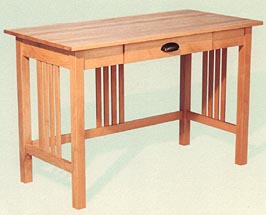 Beautiful, comfortable and compact, this desk can fit into a small home office or into a bedroom as a homework station. This desk is crafted from solid alder and features a large desk top and drawer that come already assembled. Made of solid alder hardwood.
Dimensions:
Height: 29"
Unit Size: 44" wide x 22" deep
Weight: 34 lbs.
PLEASE NOTE: This item is shipped UPS unassembled.
ITEM
Unfin.
Stained
Painted
Special*
627W
$233
$347
$382
$420
*Distressed or Two-Tone Finish
Chateau Desk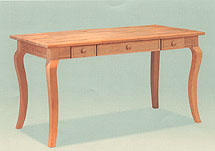 An elegantly designed desk with a unique feature. The hinged drawer front locks in place to form an oversized drawer - or unlocks and drops down to make a shelf large enough for a computer keyboard and mouse pad. The plank top desk features a 54" wide by 27" deep work surface and an additional pencil drawer. Center drawer can be changed to a "computer keyboard pull-out". Made of solid Alder hardwood.
Available to be shipped UPS unassembled.
Dimensions: Desk -- 29.5"Hx54"Lx27"D
PLEASE NOTE: This item is shipped UPS unassembled.
ITEM
Unfin.
Stained
Painted
Specialty**
JG623W
$496
$739
$813
$894
*add 10% for assembled item
** Distressed or Two-Tone Finish